From the desk of Secretary -
Smt. Sungandha Sharma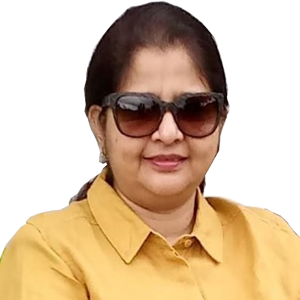 Any Rand quite insightfully wrote:
"The only purpose of education is to tech a student how to live his life-by developing his mind and equipping him to deal with reality. The training he needs is theoretical, i.e. conceptual. He has to be taught the essentials of the knowledge discovered in the past – and he has to be equipped to acquire further knowledge by his own efforts."
I am convinced of the fact that the most pertinent question that teachers and imparters of education need to ask themselves is-What is missing?
The soul, perhaps……
'Soulful' education seeks to open the mind, warm up the heart and awaken the spirit of each student. Keeping in concern the need to boost and chisel the upcoming potentials, Balika Vidyapith, has put its farsighted vision, sincere and utmost effort, relentless dedication and commitment to bring out the best talent as a platform where students will be facing the rigours and expectations of the outside world. We stand ceaselessly instrumental not only in the academic progress of a child but also to his true moral and ethical values.
I extend my heartfelt felicitation and wish you all the best as you journey through life. We welcome you to this imperial seat of learning, Balika Vidyapith.
History
The great philanthropist duo late Sh. Brajnandan Sharma and Smt. Vidya Devi did establish 'Balika Vidyapith in 1947 at Lakhisarai, Bihar by inspiration of Mahatma Gandhi under the direction of first President of India Dr. Rajendra Prasad. The couple were close disciples of Mahatma Gandhi and worked extensively for 'Dakshin Bharat Hindi Prachar Sabha, Madras before moving to establish this residential school exclusively for girls. One of founders, Late Smt. Vidya Devi has been awarded with prestigious 'Jamnalal Bajaj Award' for her distinguished services in the field of female education.
Past
This society was established in 1947 by the social and political philanthropists with no less than the members such as Dr. Krishna Singh, Dr. Anugrah Narayan Singh being its founder and lifetime members. The society got full patronage of Dr. Rajendra Prasad, first president of India whose first visit to Bihar was in the Vidyapith itself.

Late Acharya Vinoba Bhave, Prominent Hindi litterateur Smt. Mahadevi Verma, Ramdhari Singh Dinkar, Sh. Jagjivan Ram etc. apart from several dignitaries of India and International fame had been deeply associated with the Vidyapith.

Smt. Lakshmi N. Menon (the then Foreign state Minister of India) had been President of this Vidyapith for long. Its founder lady Late Smt. Vidya Devi has been winner of prestigious Jamnalal Lal Bajaj Award for social service.

The Vidyapith has produced several luminaries in different walks of life who are jewels in their own capacity at national and international level.
Future
We strive to start from the broken link. We aim at the revival of Balika Vidyapith and to convert it again as one of the premium residential schools of India for a Girl child at the national level. We wish to upgrade the existing infrastructure to bring higher and technical education in its fold.

We vow to convert this place into an "International Seat of Learning" with gradual introduction of job oriented courses in different area.